Have you ever met someone that you connect with so strongly that it seems out of this world.  That connect has had a direct change in all aspects of your life. You know that this connection is  beyond anything you understand and that this person is the one.  You probably feel love at a level that you did not know even existed.  The feeling is so strong that you give up your power to that person and are willing to sacrifice everything to keep the relationship in tact.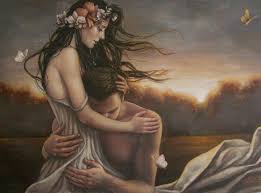 Through the process of this relationship you may have experienced job changes, loss of your home, financial difficulties and changes or losses of other relationship's in your life.  More importantly you were changed on an internal level that took you to a place where you felt totally out of control and not really sure why this person was brought into your life at all.
Understanding that the soul mate connection does not necessarily mean that you will live in happily ever after bliss, but is brought into your life to help you grow spiritually.  This relationship shows you the areas that you need to heal in this lifetime.  The reason why your connection with this person is so strong is because you have met in many lifetimes to help each other grow and progress.  You are right it is a special kind of love.
Know that at the core you are a spiritual being having a physical experience.  It is not the other way around.  As you emerge from this process you will find that you have a greater understanding or yourself and why you came into this life.  You will have a greater understanding of what love truly is and that it can change anything.  You may or may not end up with your soulmate, but with work and time your growth will be worth the experience no matter how difficult it is to go through.